---
Overview
Save the Rhino Trust Namibia has worked tirelessly over many years to conserve and protect the desert-adapted black rhino of the Kunene and Erongo regions. A critical element of their strategy has been to work with the Communal Conservancies to establish teams of Rhino Rangers - local people, selected by the Conservancy, trained in rhino tracking and tourism, and deployed to follow, monitor and protect the rhino in the Conservancy. SRT has worked closely with the MET, Conservancy Committees, NGO's and private tourism operators.to achieve the training and deployment of 65 Rhino Rangers in the Kunene Conservancies.

The Conservation Travel Foundation has supported the SRT Rhino Ranger Programme from its inception, providing funding for both routine operational costs and for rapid response actions. CTF also supports the Rhino Ranger Units in the //Huab and Doro !Nawas Conservancies with personal uniforms and field equipment, a Ranger Base, radios and a radio system, transport and salaries.


---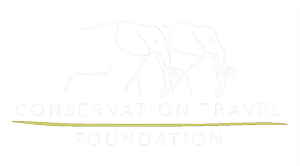 Impact
---
Namibia boasts the greatest wildlife recovery story ever told in Africa and all guests travelling with Ultimate Safaris are already making a positive impact as they embark on their life enriching journey, just by visiting Namibia.