---
Overview
The southern African species of giraffe are not yet as threatened as the eastern and northern species which are highly endangered (www.giraffeconservation.org). Nevertheless, Namibian and Angolan giraffe (Giraffa giraffa angolensis) face ongoing threats from habitat loss, illegal hunting and the effects of persistent droughts exacerbated by climate change. This is especially true of the desert-adapted Angolan giraffe that occupies the western regions of Namibia. Conservation efforts by the Giraffe Conservation Foundation (GCF) include collaring and tracking giraffe throughout the Kunene and Erongo Regions to facilitate research and monitoring.

The Conservation Travel Foundation contributes to these interventions by raising funds through the Giraffe Conservation Travel Safaris run by Ultimate Safaris, whereby guests have privileged access to, and participation in, the annual capture and collaring of desert-adapted giraffe. During the next year GCF plan to trans-locate 12 giraffe into the Doro !Nawas Conservancy, and a group of Conservation Travel Foundation supporters will join them. This is all work that will contribute to the prevention of the silent extinction of one of Africa's most iconic species.


---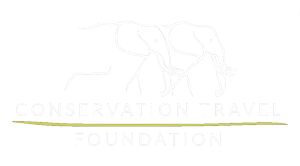 Impact
---
Namibia boasts the greatest wildlife recovery story ever told in Africa and all guests travelling with Ultimate Safaris are already making a positive impact as they embark on their life enriching journey, just by visiting Namibia.