---
Overview
The re-establishment of the population of "desert-adapted lions" in the northwest of Namibia, where it is the only increasing wild lion population outside of a National Park, is an African conservation triumph. However, much of the area in which the lions roam, is occupied, albeit sparsely, by pastoralist communities. These communities are not equipped to manage the presence of lions, which can pose a threat to both livestock and people. Balanced against the threat the lions pose, is their value to the functioning of a natural ecosystem, to the safari tourism industry and, thus, to the Community Conservancies where they occur.

The Conservation Travel Foundation has identified the implementation of systems promoting human - livestock - lion co-existence as a conservation and a rural development priority. With the support and participation of Integrated Rural Development and Natural Resources (IRDNC), Save the Rhino Trust (SRT), Desert Lion Project (Dr Flip Stander), and organisations like the Conservation Travel Foundation and Ultimate Safaris, the affected Conservancies are implementing the following measures, under a "Northwest Human - Wildlife Conflict Management Plan".
Research and monitoring
Satellite tracking collars are fitted to lions by Dr Stander to track their movements to provide the information on which to design human - wildlife conflict mitigation measures.

Early Warning System
In conjunction with the research collars, SRT and Dr Stander have designed and erected a series of
Early Warning Towers close to livestock enclosures that alert villagers when collared lions approach.

Lion Guardians
Communal Conservancies employ Lion Guardians to patrol their areas, locate potential problem lions and deter them from human - livestock sensitive areas.

Early Warning Rapid Response Units
The Units, which are managed by SRT and are vehicle mobile, react to the presence of lions in sensitive areas and assist the affected communities to deal with potential, or actual, incidents with lions.

Predator-Proof Enclosures
Enclosures (bomas) have been designed that are effective in excluding lion and other large predators (leopard and hyena) when livestock is enclosed at night, especially when used in concert with the Early Warning Towers.


The Conservation Travel Foundation has provided funds to purchase a new research vehicle for the Desert Lion Project and to assist with the implementation of the Early Warning System for rural communities in affected areas – helping to protect the world's only growing lion population that lives outside of a National Park. It has also assisted the Conservancies and the organisations involved in the Northwest Human - Wildlife Conflict Management Plan by contributing towards :
the Desert Lion Project through the purchase of satellite tracking collars, lion capture costs and vehicle fuel costs;

Early Warning Towers and technical equipment;

vehicle running costs, and salaries for the Early Warning Rapid Response Units.

the purchase and erection of predator-proof bomas.


---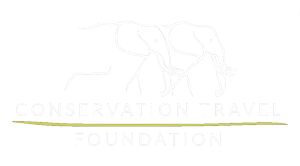 Impact
---
Namibia boasts the greatest wildlife recovery story ever told in Africa and all guests travelling with Ultimate Safaris are already making a positive impact as they embark on their life enriching journey, just by visiting Namibia.